Welcome!

Welcome to An Opportunity Knocks!

We have proudly been serving City to City, City to City since 1999!

We are recognized as one of North America's leaders in the art and science of getting your company noticed. Let our team of experts be your guide in selecting the perfect promotional product this time and every time.

We hope you'll give us a try. The opportunity to quote is all we ask! Why not get a competitive price from a supplier who's been proudly serving Rhode Island for over a decade! We will be sure to get back to you as quick as we can!

In conferences and tradeshows, giving away promotional products is the best way to make sure that people will remember your company name. Because they will take home an item with your name on it, this will ensure that the impact of your brand will stay with them long before the event has passed.

As Part of Conference Registration:
One way for you to distribute these giveaways is to hand them out as part of conference registration. Imagine that every attendee will receive a gift from you at the start of the event. And if your gift is useful, they can even utilize it during the event.

However, there are some disadvantages of this arrangement. One of them is that many advertisers will surely hand out their promo materials in the registration package too. This means that your item could go unnoticed or even lost.

So if you're planning to do this, make sure that your item is extremely noticeable and useful for the attendees. For example, you could donate the bags that will hold all of their conference gears.

Another disadvantage is that you're giving out your items to everyone - even to those who might not be interested in your products. You have to weigh this decision out for yourself - are you willing to take the expenses? Or do you think that giving giveaways to hundreds or thousands of people will be truly worth it?

As Booth Giveaway:
If you're not comfortable with spending too much on one conference, then you can always hand out free giveaways only on your booth. It's wise to hand them out to people who sign up for your newsletter.

Another good way for you to increase further interest in your product is to get the contact details of your booth visitors. In this way, you can still continue to advertise your product to them in the future.

As Bonus for a Purchase:
When customers make purchases in your booth, make sure that you give out promotional products to them as well. When you do this, they would feel that they got a better deal, and your company will look fair and generous in their eyes.

We want you to know at some point in the past EVERY SINGLE CLIENT was in the exact same position you are in today: They used to work with another promotional company. Unfortunately for one reason or another that other company disappointed them. So they decided to contact us. We Guarantee our orders, we Guarantee our order quality, and we have an additional 5% Free Goods Guarantee. They have all been loyal clients ever since.


Featured Item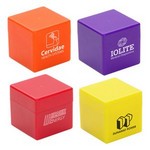 .3 Oz. Cube-It Lip Balm
Choose your cube container color and add a brand to create a promotional product that's trendy, useful and designed to get your promotional campaign on a roll! These compact handouts pack a big promot...